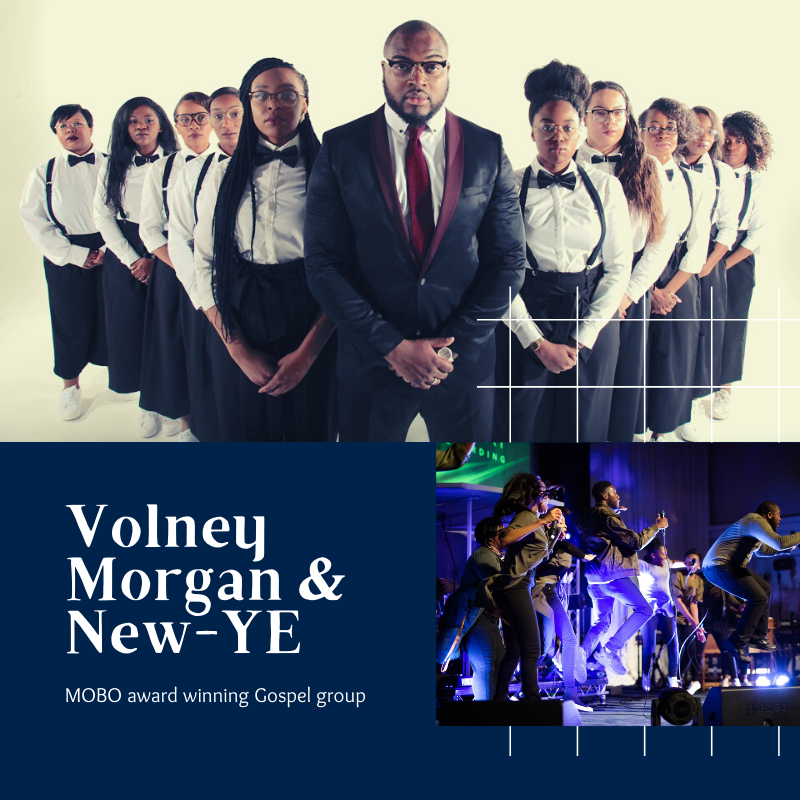 The MOBO award winning group Volney Morgan & New-Ye, are known for their vibrant moves, rhythmic sounds and electrifying stage presence.
This passionate group started in 2006 rehearsing in a home in London, England. After singing in their local churches, they began receiving invitations to perform at various events across the UK.
Their first big break came in 2011 when they were chosen by Premier Gospel to headline their first ever LIVE concert entitled 'Premier Presents… New-Ye Live'. This concert was a sold-out event and saw the release of their first EP – 'A Lion That Stoops in the Presence of God'.
More about their travelling and music career…
Since then, Volney Morgan & New-Ye have travelled all over the UK and Europe sharing their music. They have shared the stage with some of Gospel's greats such as Kirk Franklin, Tye Tribbett, Noel Robinson, Cece Winans, Deon Kipping, Michelle Williams and Jason Nelson to name but a few. They have also worked with the BBC,  IGospel, The Croydon Gospel Festival, Tru-Life Promotions, the Sister Act Live Show and Universal Studios.
In 2016 Volney Morgan & New-Ye, won their first Award for "Choir of the Year" at the Premier Gospel Awards
In 2017 Volney Morgan & New-Ye had the privilege of sharing the stage with US Gospel Artist Travis Greene in his first live concert in the UK.  They also won the Premier Gospel Award for 'Choir Of the Year' for the second consecutive year. With the addition of winning a MOBO Award and UK Entertainment Award for 'Best Gospel Act' 2017.
With 3 EPs, 2 Albums and 3 singles under their belt, Volney Morgan & New Ye with their innovation and boldness are making a noticeable impact on Gospel Music in the UK and are now progressing to share what they have with the rest of the world.
In 2022 Volney Morgan & New-Ye saw the group win another award at Premier Gospel Award for 'Choir Of the Year'.
Other Artists & Performers