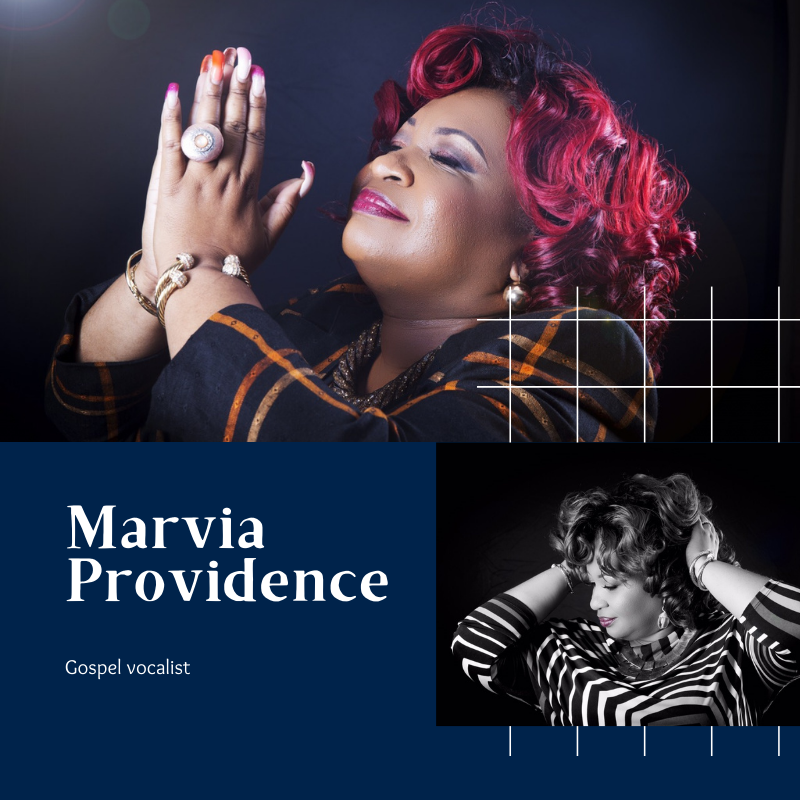 Marvia Providence is a Gospel vocalist who has pierced the mainstream by bringing her island rhythms and fresh sound to the music scene. As an anointed Evangelist, she has ministered the gospel and shared the stage in several conferences with other great ministers such as TV Evangelist Paula White, Eddie Long, John Francis, Pastor Shirley Caesar, Sheryl Brady, Beverly Crawford, Bishop Neil C. Ellis and many other great men and women of God.
"Great is thy Glory" surfaced in 1992, but it was in 1994 that Marvia really received greater recognition when she released her first album "Too Much to Gain to Lose" which caused her gospel music career to crescendo. Her ability to capture an audience and lead them into worship has taken her to several countries around the globe such as the USA, UK, Cayman Islands, Antigua, Trinidad, Turks & Caicos, Tortola, Bahamas, Guyana, St Vincent, St. Kitts and Anguilla.
More about her music career…
She has shared the stage with ministers and artists such, Kirk Franklin, Fred Hammond, The Grace Thrillers, Papa San, Chevelle Franklin, and various other renowned artists in the gospel world.
​Minister Marvia in recognition of her talent and hard work has won many Awards and Achievements from 2004 -2015; Marlin Awards, EME Excellence in Music Entertainment Awards "Hotmix"; Maja Awards.
In 2007, Top Caribbean Gospel Artist of the Year, 2008 Hopeton Lewis Caribbean Gospel Music Award, 2013 CCGMA Canadian Caribbean Female Gospel Artist who has showcased Canadian Gospel Music, nationally and internationally; 2013 Caribbean Music Awards and in 2015 Canadian Achievement Glass Award awarded her the Lifetime Achievement Award.
Other Artists & Performers