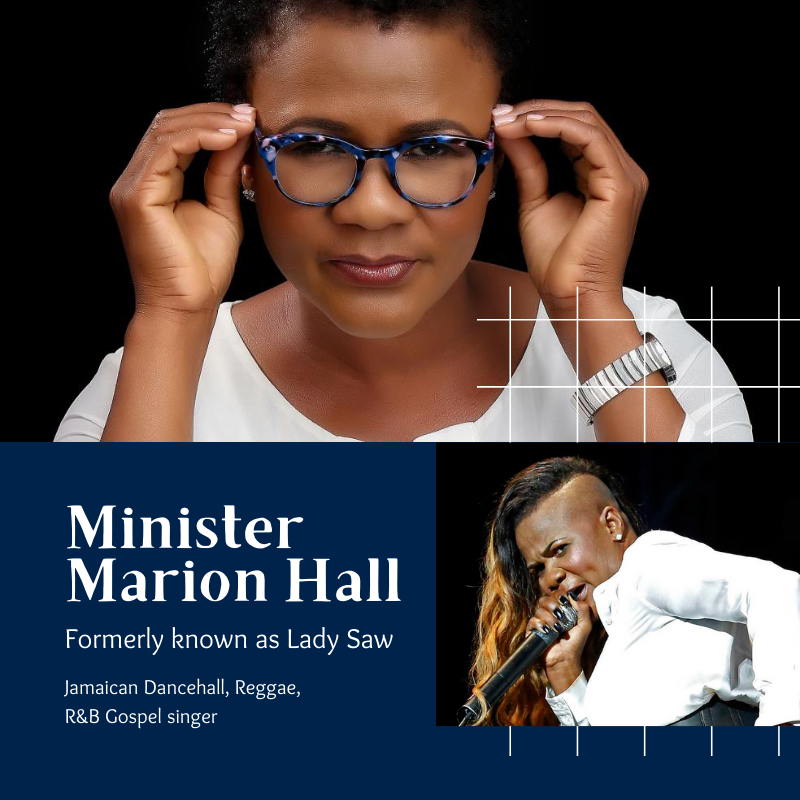 Minister Marion Hall
(formerly known by the stage name Lady Saw)
Minister Marion Hall is a Jamaican Dancehall, Reggae, R&B Gospel singer and songwriter whose career has spanned over two decades. Formerly known as the Queen of Dancehall, she is the first female deejay to be certified as a triple-platinum and Grammy Award-winning artist. She has labels on Divas Records, Toasting Music and VP Records.
Minster Marion began performing with local sound systems and went on to work with the Stereo One system in Kingston releasing many greatest hits album spanning from 1998 – 2015 and on Billboard Hot 100. She was also a major hit in New Zealand and Canada, and certified gold with over 500,000 sales.
More about her music career…
In 2002, her collaboration reached No.3 in the USA and sold more than 3 million copies, reaching triple platinum certification. The track won a Grammy Award for 'Best Performance'.
In 2016 Minister Hall began a new music career in gospel music. She has released a few gospel songs; "Jesus in The End", "Cup of Blessings", "God Almighty", and "Heaven" which appear on several mixtapes. In July 2016, she released her first gospel album "When God Speaks".
In June 2018, Minister Hall released the lead single "I'm Gonna Fast" from her album "His Grace". The album was released on 20 July 2018.
Other Artists & Performers